KUDO's!!!!
If you have a Prairie Star Farm horse and would like to have a recent pic posted click here ->
Comments and Pics of my horse
.
Or just write and let us know how you and your horse are doing!
Congrats to Summer and Catniss aka "Catchin on Fire"!


2011 sorrel filly (Convincing Prince x Firewater Fury)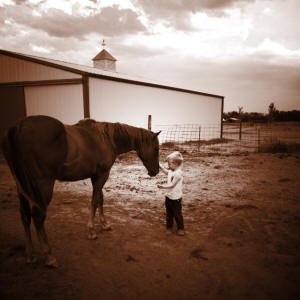 "The intelligence and beauty of this yearling filly has me so excited for our future together! thanks Fran!"

Good luck to Krista and Cricket aka "Luck is a Factor"!


2007 palomino mare (Convincing Prince x CNF Ms Clabber Dasher)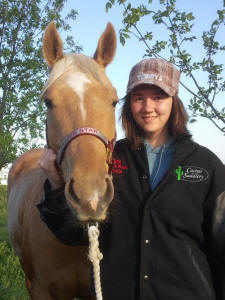 Congratulations to Gabby!!! Good luck with "Convincing Rockette"!


2009 Filly (Convincing Prince x Rocket Diamond Dash)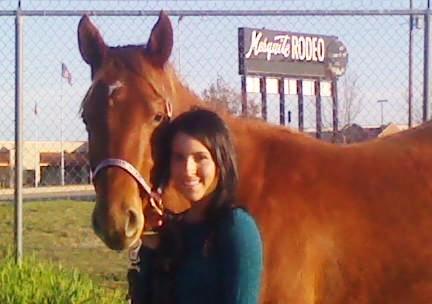 Good luck to Justi and Jet!
"Convincing Feeling" - 2007 Buckskin Gelding
(Convincing Prince x Igotshawnefeeling)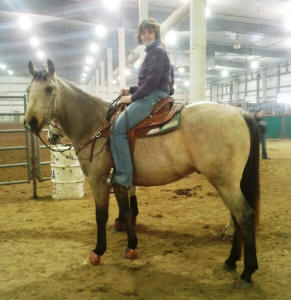 "Sass and Dash" aka Stella, and Jessica
2007 Sorrel filly sired by Convincing Prince, out of Little Dasher Bug, a granddaughter of Dash for Cash and Shawne Bug.
Click Here for full pedigree
Here is Stella's first competition run. She was 4th in the 1D out of 50 horses!!! Wow what a start! I can't wait to see this filly in the futurities!
Gambler and Michelle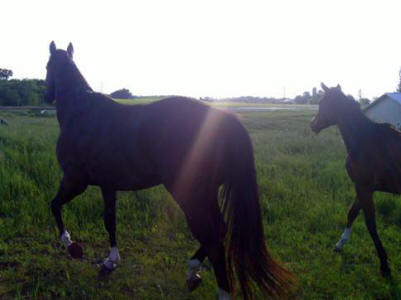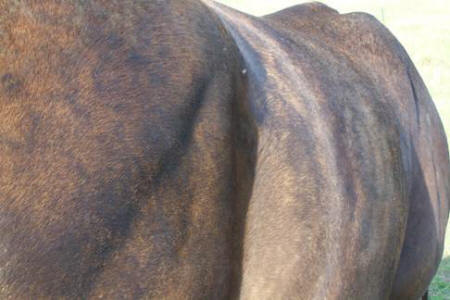 "Hi - I bought the brown black filly from you several years ago - I call her Gambler. She is doing well and has been really easy to train. She's smart, but not too smart for her own good... she is a willing mare and has never offered to do anything stupid - and that includes her first ride, no buck or rear to her what so ever. She does everything we ask of her on the first try without hesitation.
What really makes her really different is that every season she is a different color. In the winter, she's black. In the spring a chocolate brown... In the summer she is a golden buckskin (really shimmery gold) and in the fall - she her coat reflects a unique brindle pattern. When my farrier comes out - he always has to ask what horse this is because every few months she's completely different looking. When people ask what color she is, I have to honestly say - I don't know!
Has the stud thrown any other brindles?
thank you,
Michele from Minnesota"
Mallory and Mirage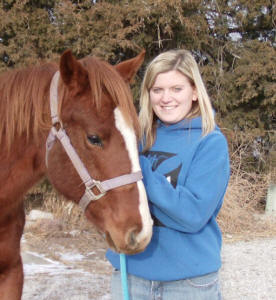 "I just thought I would drop you an email and tell you how my mare "Convincing Mirage", we call her Chloe, is doing! Chloe is very stout and mature for her age! I broke her to ride last spring, put about 60 days on her, then turned her out on pasture all summer. I pulled her out in August, and the very same day took her to a barrel race to see the sights. I even rode her around! With all that time off it felt like she never skipped a day. This mare is most definitely one of the most talented and athletic colts I have ridden. She is a total natural on the barrels, great mover, and a beautiful sliding stop!! ........ I will most DEFINITELY will be getting another colt from you soon. They are all so talented from what I can see and from the one I have. ......
Also... here is a video of Chloe... check it out!!"
Pedigree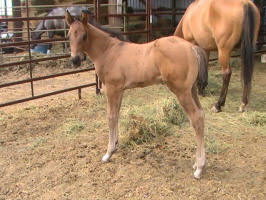 Congrats to Bricklee and Smokey!

CONGRATULATIONS to Terri and family.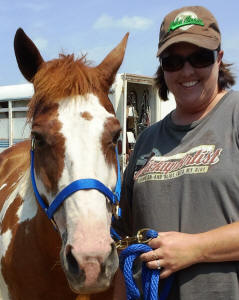 "Anyway, Scoot is doing AWESOME!!! I get along great with her - love her and getting her going and doing other stuff than just barrels/poles,,,,,I have come to the conclusion that she can teach me tons....Appreciate it very much. Thomas likes riding her....we've sure had some good compliments on her. ".....Terri

Convincing Rocket (Jet) and Invincible Dash

both sired by Convincing Prince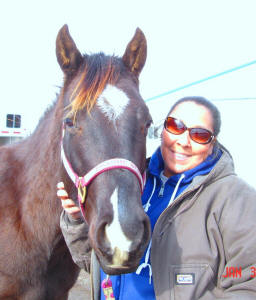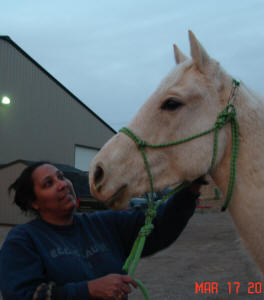 ..."I really thought that Jet was the sweetest horse alive, now I'm sort of thinking it might be Dash. He likes to come up behind me and put his head on my shoulder and I stroke his nose and give him kisses and he will stand there for hours like that. He loves the attention. Jet sort of knows that he is my favorite and he will get in front of Dash like, no take me first, then Dash will try to go under him to get to me first. Again, I just can't make up my mind who I adore more, they are both so sweet and have the best temperaments"...Michaela
"Indy" and Jenny
(Prairie Star Buck)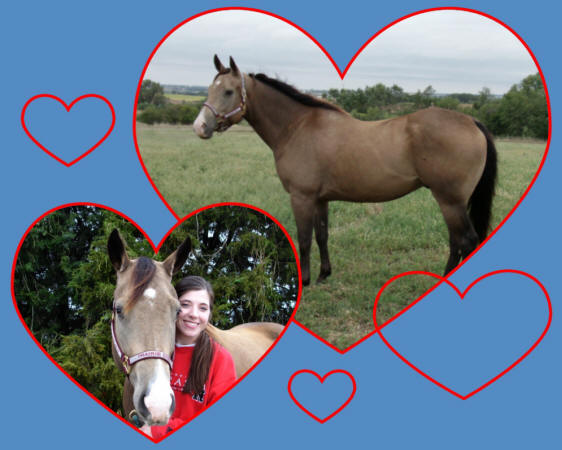 Two Hearts - One Dream
"I don't know if it is the way you raised and trained him or his breeding but he is just a dream!! He never fussed or threw a fit...it is such a nice change compared to what I'm used to!!!! We just love him...already!!!! Thank you for all you have done for us and for the wonderful upbringing you gave Indy!!
He is just a sweetheart!!! " ...Jenny

"Convincing Tricks" and Scout
Palomino mare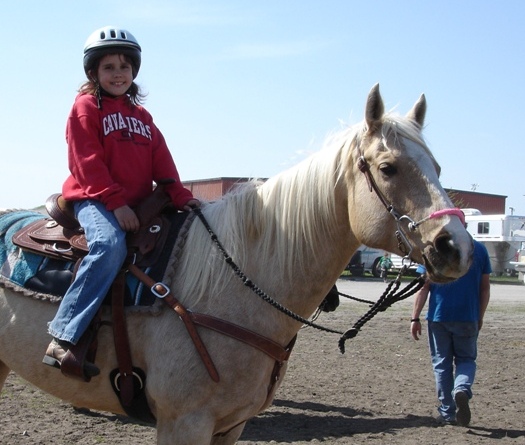 Having a great time at the Jr. Rodeos!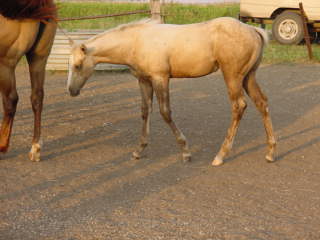 "Convincing Wrangler" and Cayla

Buckskin gelding sired by Convincing Prince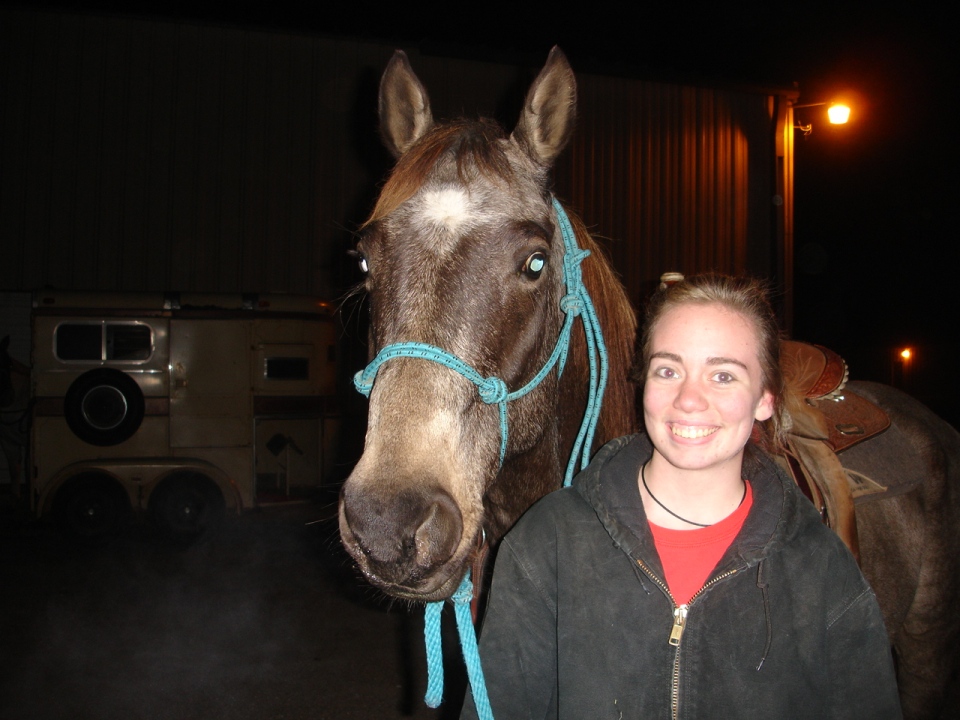 "They had a good practice last night! She loves him to pieces! He's such a good boy!"....Cathy
"Convincing Kipper" aka Ace, and Kaitlyn

2007 Black gelding sired by Convincing Prince, out of Shawneia, an own daughter of Shawne Bug.
Click here for full pedigree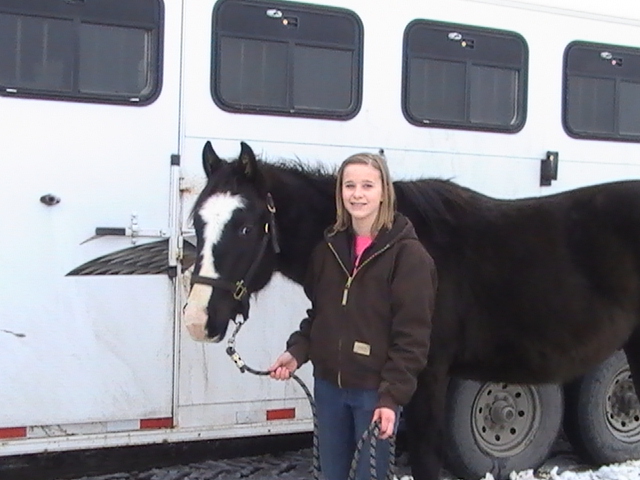 "He is really sweet! I was scratching his forehead and when I stopped he rested his head on my arm until I started petting him again.
... I'm very excited to start training him and thanks for a great horse! .... " Kaitlyn
"Convincing Boston" aka Vegas, and Chelsea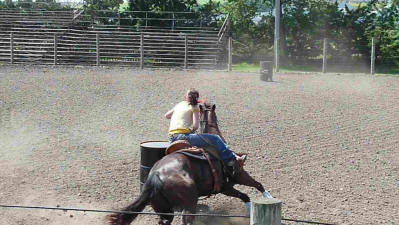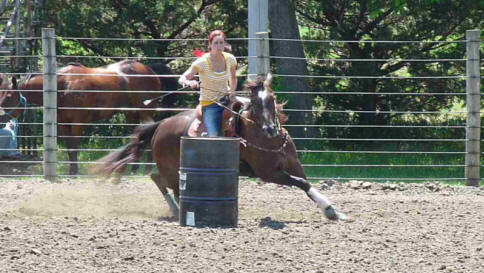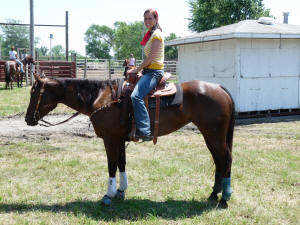 "Outta the Wild Blue" and Karen
(2008 Buckskin Gelding)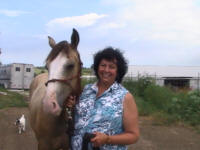 Congratulations! Good luck on the trails!
"Just a note to wish you a happy 2010 and to let you know Smoke is doing great. He has grown, still has the black cape like his daddy. I did a lot of work with him last Fall on bombprofing, he just isn't afraid of anything. At Thanksgiving we had 70 degree weather and I worked him in the round pen and then threw a saddle on him and worked him for another 20 minutes. Not even one buck or kick-up. He has a really nice disposition and is a very willing, fast learner. The granddaughters were leading Smoke all over the place and he is so dependable with them. All the commotion was good for him. He is going to be really easy to break, we are pretty good buddies by now. He comes running when I drive up to the barn. Gets along good with the other horses. He is going to be a beauty."


Convincing Pirate and Shelly
(2006 Palomino Stallion)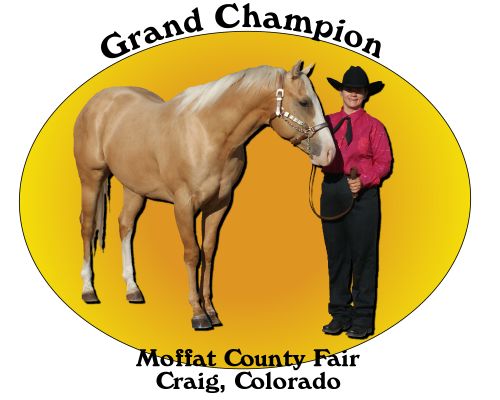 2009 Grand Champion Stallion!!!

Moffat County Fair, Craig Colorado
2nd Novice Western Pleasure

Congratulations to Linda and Phil Pinnt and family of Colorado!
Sired by Convincing Prince out of Little Dasher Bug, a granddaughter of Dash for Cash and Shawne Bug.
Pedigree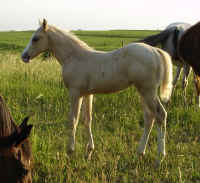 Pinnts Performance Horses
Convincing Sizzle and Gabby
(2003 Bay Mare)
| | | |
| --- | --- | --- |
| | "Gabby has been running Sizzle at the high school rodeos this year. At the HS finals on this weekend she ran 0.2 off the arena record and won the barrel race on Sat by almost 3/4 second. On Sun she shaved a 0.1 off her time but hit the first coming out. They won the local barrel race a few weeks ago too. Gabby just lets her work. Their run is so smooth." | |
< Pedigree>
Special thanks to Doug and Mary!